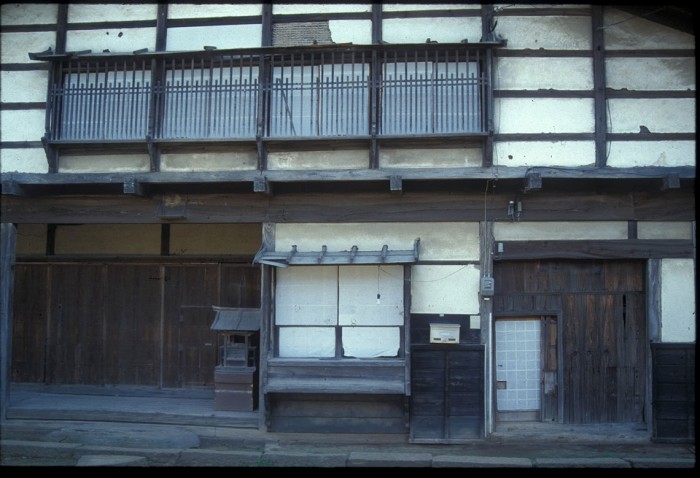 The toiya (alternatively pronounced tonya) was the officially designated person in charge of porters and the shipment of baggage and other goods. In a sense he was the 'quartermaster-general' assigned to each post-town. In terms of status he was second in importance to the honjin, and may have, on occasion, served as village headman. Very often the role of toiya was combined with some other manufacturing or retail activity, the most common example being sake brewing.
It was the responsibility of the toiya to ensure that travelers could move smoothly along the highway with all the porters and horses they might require. Of course, priority had to be given to official travelers like the shogunate's messengers, daimyo, and others of high rank.
At times, the amount of assistance required by official travelers exceeded the standing capacity of the post-town's toiya. In such cases, it was his duty to seek extra support, both porters and horses, from surrounding sukego.Although obliged to provide this support when required, in practice the toiya often had great difficulty persuading sukego to meet official needs. As traffic along the Nakasendo grew toward the end of the 17th century, the number of villages which were designated as sukego was increased. At first, all villages within a seven mile radius of each post-town were called on for this duty, but over time, the area was gradually extended to a twenty-five mile radius.
Resistance by sukego to the demands of the toiya occurred if his demands were excessive or too close to harvest or if the crops had been poor. In 1764, for example, the peasants of Nagano and Gunma prefectures revolted after excessive demands had been placed on them to meet the needs of a Korean embassy and the 150-year anniversary celebration at the Tokugawa mausoleum at Nikko. The rebellion caused a march on Edo of some 200,000 peasants. They were finally stopped near Kumagaya post-town and persuaded to return home peacefully with promises that their conditions would improve, but the leader was executed and a further 360 villagers from all the rural areas involved were punished.
Today, few signs remain of the warehouses, stabling yards, and porter offices that surrounded the toiya. Perhaps the best surviving example is at Otai. The sake-brewer's symbol of a ball of cedar twigs seen outside some residences, such as at Magome, give a clue to the former location of toiya.