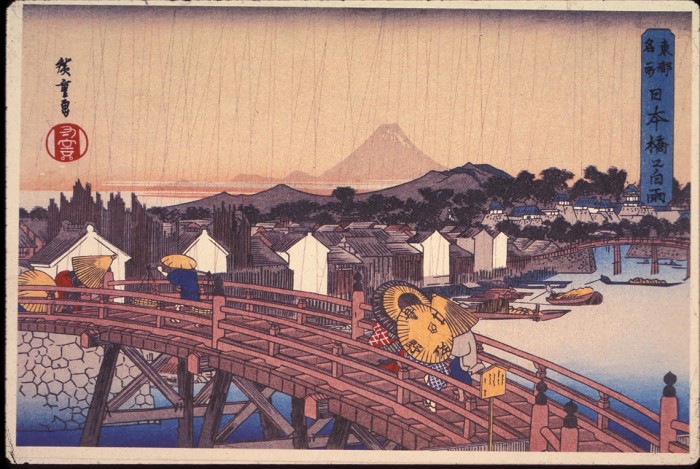 Hiroshige is the given name of Ando Hiroshige (1797-1858) who was a woodblock print artist and illustrator best known for his landscapes. His work was influenced by brush painting and ukiyoe (pictures of the 'floating world') which depicted the joys, sorrows and beauties of the entertainment districts.
Hiroshige's father was a fireman of samurai status and Hiroshige, the eldest son, inherited his father's status and job. However, he shed his responsibilities as soon as his son was old enough to take them on. Unable to push into the school of the popular ukiyoe artist Utagawa Toyokuni, he studied with a relative of the great Utagawa who happened to prefer painting to ukiyoe, hence the dual influence on Hiroshige's work. Woodblock prints of actors and courtesans were not particularly successful for Hiroshige, although they were immensely successful in the hands of other artists, but a series of landscape prints led to a commission in 1830 to do ten landscapes of Edo. Ultimately, he executed around 1,000 landscapes of this, his favorite city.
In 1832, he traveled along the Tokaido highway from Edo to Kyoto and back. He then published his famous 'Fifty-three Stations of the Tokaido', consisting of a picture of each of the 53 stations along the road. The series achieved such great success that he subsequently undertook some 20 other series of prints focused on the Tokaido.
In the late 1830s, he traveled along the Nakasendo highway, contributing 46 designs to a series of 69 views of this highway (Keisai Eisen did the remainder). Hiroshige also did series of prints on Osaka and Kyoto, but it was for his various series on Edo and on highways that he achieved the greatest reputation during and after his life.
The highway prints provide accurate representations of the roads, post-towns, pilgrims, and travel methods of his day. Many of the scenes he depicted are still recognizable today.