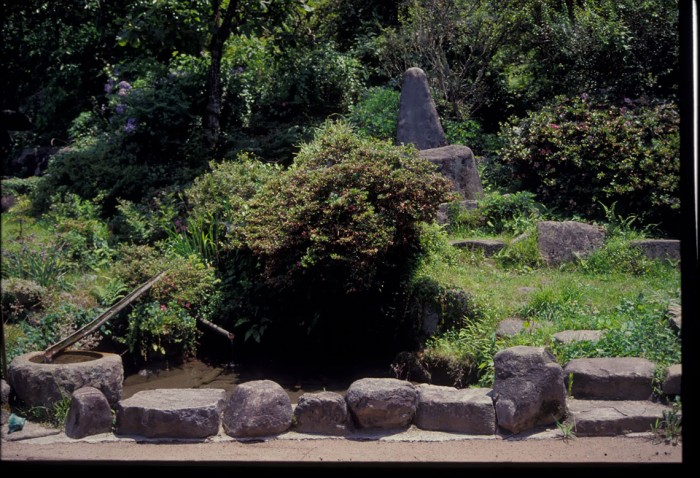 Scattered along the Nakasendo, at Shinchaya, Shimo-suwa, and Karuizawa, are rocks on which are inscribed poems. Composed by Basho, the poems evoke the local landscape at a particular time of year and are much appreciated by local residents who have erected the stone memorials to the poet.
Basho was a master poet who developed poetry, especially what has come to be known as the haiku poem with a 5-7-5 syllable format, to a high level. He brought to haiku wit, brevity, and a degree of bawdiness which popularized the form among serious poets as well as those seeking entertainment while drinking or eating. Basho is also famous for the many long journeys which he immortalized in a series of travelogues combining poetry and prose. These were also great achievements in their genre.
He was born Matsuo Kinsaku in 1644 near Osaka, taking his poetic name years later after the banana tree which grew near his home in Edo. He was of a samurai family and took employment as a samurai until his master died. In 1666, he went to Kyoto, establishing a good reputation as a teacher of poetry, until he moved to Edo in 1672. Edo remained his home until his death in 1694 on one of his long travels.
His first trip took him in 1684 to Nagoya, Kyoto and Osaka on a voyage of personal discovery. At the time, traveling for its own sake was just gaining popularity. Basho's diary helped firmly establish it as popular activity. He worked hard to discover and define a perception of himself and of poetry which linked the beauty and simplicity of the countryside together with his art. He recognized that the city was a corrupting influence and sought the ultimate in nature and man far removed from the urban setting. Given that urban culture was well into the excesses of consumption and frivolous extravagance that marked the Genroku era, his view struck a resonant chord in is own time and even in the city.
In 1687, Basho made another trip to the west along the Tokaido before returning to Edo along parts of the Nakasendo, including the Kiso valley. The trip has been immortalized in two works which combine poetry with diary: 'The Records of a Travel-Worn Satchel' and 'A Visit to Sarashina Village', both translated into English in 1966. Both of these make strong appeals for returning to the purity of nature. In 1688 he departed on a trip trough Gifu, the Kiso valley and Sarashina to see the moonshine at Obasuteyama, where old women were sometimes abandoned on the mountain at the end of their lives. The poem which is inscribed on the rock at Shinchaya was written on this trip.
In 1689, he took a long trip north of Edo into areas truly off the beaten track. Lasting over five months and covering 1,500 miles, the trip was the subject of another poetic diary, translated as 'The Narrow Road to the Deep North', again in 1966. The next couple of years he spent in the old capital of Kyoto, returning to his many students in Edo in 1691. In 1694, he set off on his last trip, dying in Osaka on November 24.