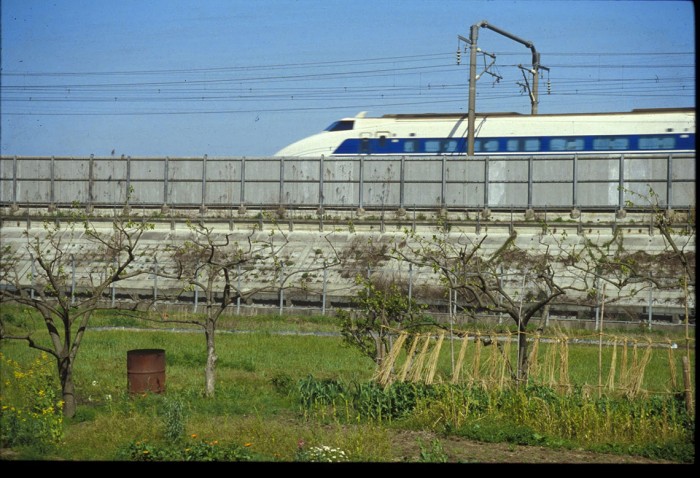 The Shinkansen is commonly known outside Japan as the 'bullet train' but the word actually means 'new trunk line'. It is a high-speed passenger train system which now stretches from the southern island of Kyushu to the main island of Honshu with Fukuoka, Hiroshima, Osaka, Kyoto and Tokyo connected. A new line stretches north from Tokyo into more sparsely populated parts of the main island. The first line in the system was put into operation in 1964 in time for the Tokyo Olympics. The technology was the most advanced at the time and much of it was invented by Japanese engineers.
The original Shinkansen stretched from Tokyo to Nagoya and Kyoto, terminating in Osaka. Running times for the 500-plus kilometers was about three and a half hours in 1964, but gradually newer, faster trains appeared. The new line cut the travel time from Osaka to Tokyo almost in half. This line was extended through Kobe and Hiroshima to Fukuoka on the island of Kyushu in the 1970s. In the late 1970s, a new Shinkansen was run from Tokyo north to Omiya, Takasaki, and Niigata, and another line to Sendai, Morioka and the far northern tip of the main island. Newer and faster trains were put into operation at this time. For many years, the Shinkansen trains were the fastest in the world, but they are now second to high-speed French trains.
One of the main reasons for building the Shinkansen was that the existing tracks of the Japan National Railway were narrow gauge. The trains running on them were severely limited at high speed because narrow gauge is inherently less stable than wide gauge. The Shinkansen lines were built to a wider gauge so that speeds of up to 215 kilometers per hour are possible.
Originally, the Shinkansen lines were built for long-distance travel. In recent years, however, the more frequently stopping Shinkansen trains have attracted many commuters who are willing to make a trade between the high price of commuting by express Shinkansen and the vastly lower housing prices of the more distant suburbs like Omiya and Takasaki. Takasaki is 40 minutes from Ueno in downtown Tokyo by Shinkansen, but nearly 2 hours by ordinary commuter train.