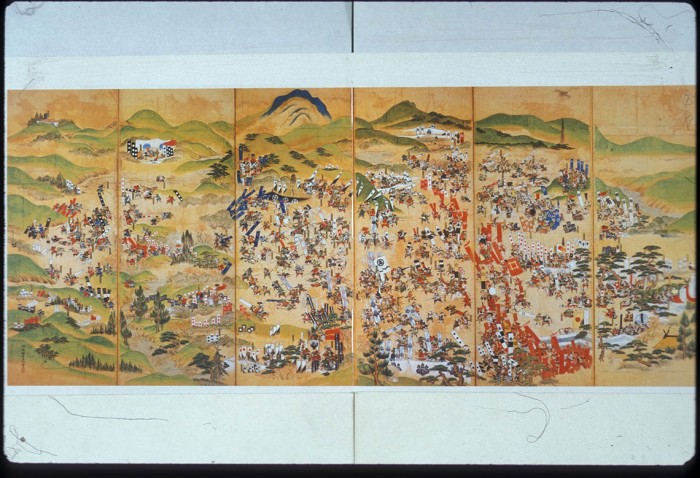 The battle at Sekigahara in 1600 is seen as the last step in a centuries long process of political unification made remarkable by the degree of warfare. This was the Warring States period. The outcome of the battle was a definition of political relationships which were maintained during two and a half centuries of peace, stability, and growth.
First of all, the battle put to rest any claim to supremacy by the Toyotomi family whose supporters were beaten. The Toyotomi remained, however, and were a potential threat to the victorious Tokugawa family, so perhaps it was not surprising when the Tokugawa shogunate gathered its forces to destroy the Toyotomi and their Osaka stronghold 15 years later.
The battle also established Tokugawa Ieyasu as hegemon over all of Japan. Three years later, he accepted the title of shogun from the emperor and became the first shogun in 150 years to exercise the real power of the office. His descendants continued as shoguns until 1868.
The Battle of Sekigahara also established a very clear hierarchy among the daimyo. Those who allied themselves with the Tokugawa house formed a clear and definable group (fudai daimyo) while those who were against the Tokugawa or who held a neutral position were another (tozama daimyo). The 'good' and 'bad' guys were rewarded or punished in order to enforce peace in the future. Many of the tozama daimyo were given increased lands, however, or at least held on to their original possessions. The fudai were given extra grants, but not as much as some of the tozama. Most likely, this was because loyalty from the fudai was already assured, whereas that of a tozama had to be bought. The fudai were also awarded the more strategically important places (for example, the Ii family were moved to Hikone in Omi province), as well as receiving positions of high office in the shogunate. This distinction between fudai and tozama daimyo remained in effect until the end of the Edo period.
Finally, the battle was the last one before the long peace of the Edo period. The peace was broken early on by the final struggle against the Toyotomi family, but barring that, peace, with all its advantages as well as its problems, returned to the country.