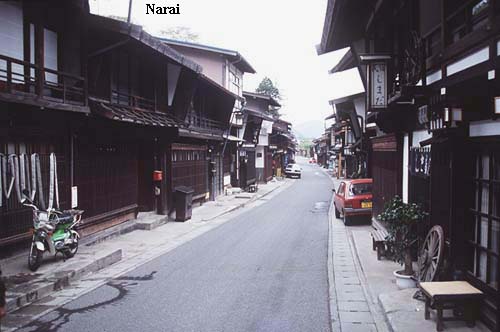 Narai has been carefully preserved, especially along the Nakasendo, although not to the extent that Tsumago has been. It seems more to have lain fallow until it was rediscovered by tourists in the 1970s, so in many ways it seems more 'realistic' or authentic than other popular 'museum' post-towns on the Nakasendo.
At the entry of the town is a Shinto shrine on the left, then the joyato and a medium-sized replica of the kosatsuba. Most of the buildings in the town are in the traditional fashion of a post-town, although few of them are much more than a century old. Narai has become famous as a tourist spot and there are many shops selling curios to travelers and many inns.
In the center of the old town are three former inns which continue to function; Echigoya, Aburaya, and Tokuriya. The latter in particular is known throughout Japan as a classic example of Nagano prefecture folk architecture. Today, Tokuriya serves simple lunches and drinks in the evening around an open fire, but modern fire regulations prevent guests staying overnight.

Passing the train station, the Nakasendo follows a newer road past modern houses until it crosses the train tracks to emerge on the national highway which has bypassed Narai. It soon enters a small town, Hirasawa, which specializes in making lacquerware. In the past, the townspeople used local woods to make common utensils such as lunch boxes. Now, the few surviving craftsmen have achieved national recognition for their manufacture of top-quality lacquer ware products. Few tourists come to Narai without a quick shopping trip to this village.
The road out of Hirasawa rejoins 
the highway
 which cuts through a narrow stretch of the valley. The walk into Niegawa, a little more than three miles from Narai, follows the busy modern highway which overlays the Nakasendo.