Although completely destroyed by fire in 1895 the rebuilding of Magome followed traditional lines and the town seems to have successfully preserved the atmosphere and feel of the Edo period. Formerly a remote and rather obscure post-town, this image has been changed due to the writings of Shimazaki Toson, Magome's most famous son. His novel "Before the Dawn" is a semi-biographical account of Toson's father when he was the honjin and headman of the town at the time of the Meiji Restoration. Still widely read today, Toson's novel now attracts tens of thousands of literary pilgrims to Magome each year.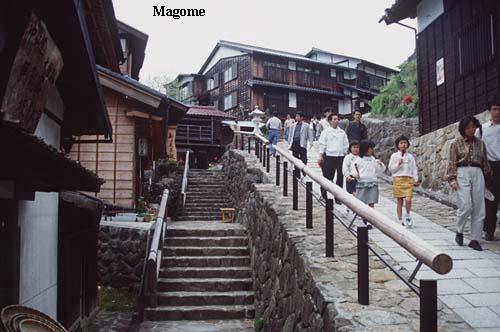 The town stretches up a steep hill. Coaches drop off tourists at the souvenir shops clustered at the bottom of the hill, allowing them to walk up the old Nakasendo which is now closed to modern traffic. The road is lined on both sides with period inns, restaurants, and shops selling local products, creating a lively atmosphere. Most visitors eventually find their way to the site of the old honjin where Toson was born in 1872. Only a part of the original buildings remained after the fire of 1895, and a memorial hall to the author has now been built there. Beyond this the town continues for some way further, until the site of the kosatsuba is reached near the top of the hill.
Beyond here the number of people on the old Nakasendo falls dramatically, as most visitors make their way back down the hill again to their coaches. Many will be driven along the modern road to the next post-town, Tsumago. This seems a shame for the walk along this section of the old highway is one of the best the journey has to offer.
From Magome the old highway heads for Magome-toge, the final barrier to entry into the Kiso valley. Along the way the village of Toge (lit. 'Pass') offers a similar Edo period scene to Magome, but the atmosphere is quieter and more restrained since fewer tourists come here. Shortly after the pass itself is reached, and refreshment can be had at the small tea house which remains in operation.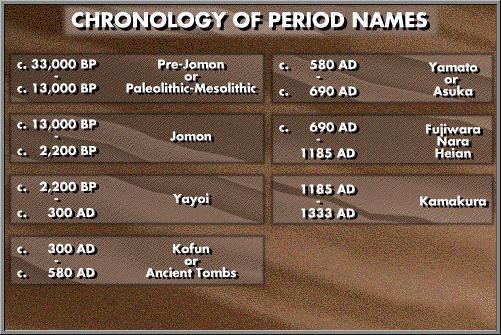 The descent to Tsumago is through ancient woodland accompanied by the sounds of birdsong and babbling streams. An abandoned tea house, next to a weeping cherry tree, adds to the charm. Nearby is the site of a former barrier station, set up in the Edo period to check all travelers and ensure that nobody smuggled valuable Kiso timber out of the valley illegally. After a further twenty minutes or so along footpaths the roar of the Odaki – Medaki waterfalls can