Kyoto is situated in a fault basin (bonchi) and is nestled by hills to the north, east, and west. When the Imperial palace was first established in Kyoto (Heian-kyo) in 794 AD, the surrounding 'city' had only one main entrance (Rashomon), to the south. This arrangement was established according to Chinese geomantic tradition, and bore little relation to the essentials for subsequent, and successful urban growth. Within decades, however, a residential preference for the foothills overlooking the city from the east (matched by a rapid decline in the fortunes of the western half of Kyoto) necessitated the building of bridges across the Kamo River to provide access to these new developments. These river crossings were natural extensions of the streets which ran from west to east in the original city plan and they bear the names of those original streets. The bridges are still named 'Fourth Street Bridge', 'Fifth Street Bridge', and so on. Sanjo Ohashi means, literally, 'The Great Bridge of Third Street' .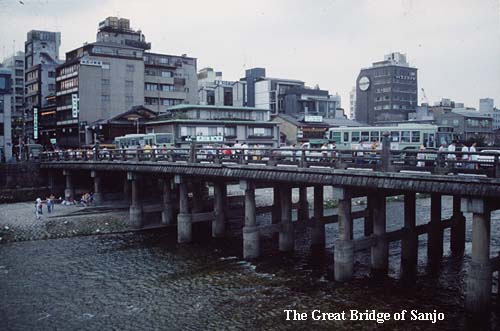 From early times this bridge became the main crossing point into Kyoto from the eastern and north-eastern provinces. It was the finishing point for journeys into Kyoto and, equally, the starting point for journeys beginning from the ancient capital. Leaving Sanjo Ohashi, on the eastern flank of the city, the Nakasendo makes a gentle ascent of these hills and soon leaves the built-up environment. The tracks of the Keihan street-railway are followed for two miles or so, along a busy modern road, before turning right into what is now a quiet, single-lane country path. This is the first opportunity to gain an idea of the old Nakasendo as it might have been a century ago and, walking along, it is hard to believe that one of Japan's largest and most important cities is so close by.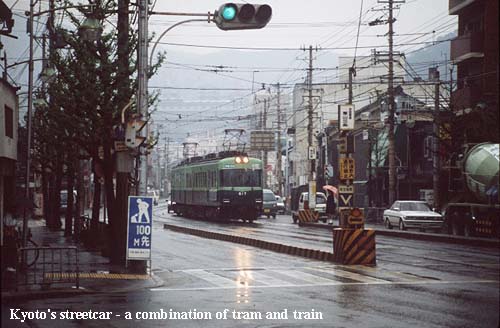 The path makes a gentle descent to Yamashina, which is now a major suburb of Kyoto with many tall apartment blocks. The Nakasendo passes through the old center of the town, however, where much of the historical character of Yamashina has been preserved. Unfortunately, any illusions of the past are promptly shattered as one leaves the town, to find the old Nakasendo has disappeared somewhere underneath six lanes of the Meishin Expressway, and four lanes of the adjacent Route 1 National Highway. The Keihan railway also rejoins the route here. All these routes head for Osaka-toge, the pass which has for centuries offered the easiest way through the mountains east of Kyoto. Since it also offered the easiest approach to Kyoto from the west, in the past the top of the pass used to be guarded by a barrier station.