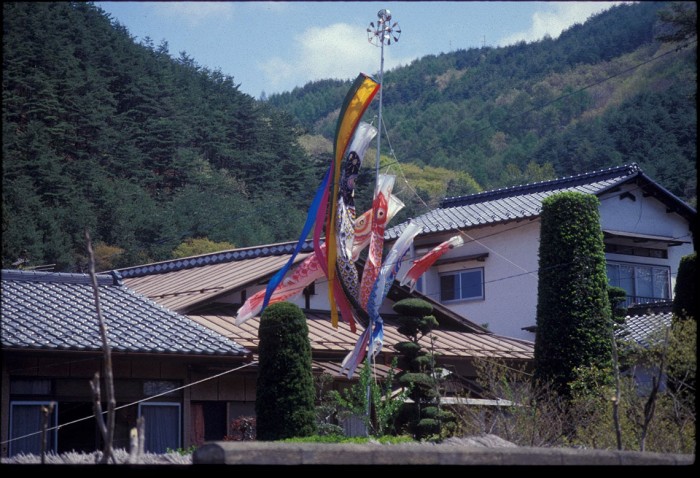 Boys' festival falls on May 5 and is officially designated as Children's Day with due respect to prohibitions against sexual discrimination (since 1948). During the ten or so days surrounding the day, it is customary for families with male children to set up a pole topped by decorations. On the pole are hoisted a streamer representing water and one or more carp streamers (these carp and streamers have been popularized in recent years in North America as decorative windsocks). Perhaps few displays are so boastful as a tall pole supporting five or eight carp 5 meters or more long: ability to produce male children ensures the family line, so the more the better. In addition, the size of the carp is a clear statement of a family's wealth. The number of carp does not necessarily equal the number of sons in the house, but many people do make the equation. Attempts to make the modern festival less gender oriented have not succeeded; girls have their own festival, although it is not a national holiday.
The festival, as all good festivals do, mixes a variety of different traditions and roots. There is a Chinese tradition of hanging several herbs as preventives against disease; this appeared in Japan as early as 849. Combined with this was a Japanese belief in the iris as a repellent of evil spirits. In the Nara (710-794) and Heian (794-1185) periods, iris were sometimes worn or hung around the home or put in the bath. To this day, the ritual of adding iris to the bath water on the appropriate day continues in many homes. The word for iris, "shobu", sounds the same as the expressions for victory and revering the martial arts; hence, with the rise of the samurai class, the iris and the festival assumed greater importance. The carp is a fish which appears in various Chinese legends as strong and long-lived, as hopefully a good male heir will be.
The placing of Children's Day on the date of the boys' festival is an interesting attempt to reduce the male dominance in the society. Bringing all children into the formerly esteemed festival for the boys was intended to put equal emphasis on all children regardless of sex. The fact that the day remains officially for children and popularly for boys, at least in the symbols displayed, is a testament to prolonged male domination.