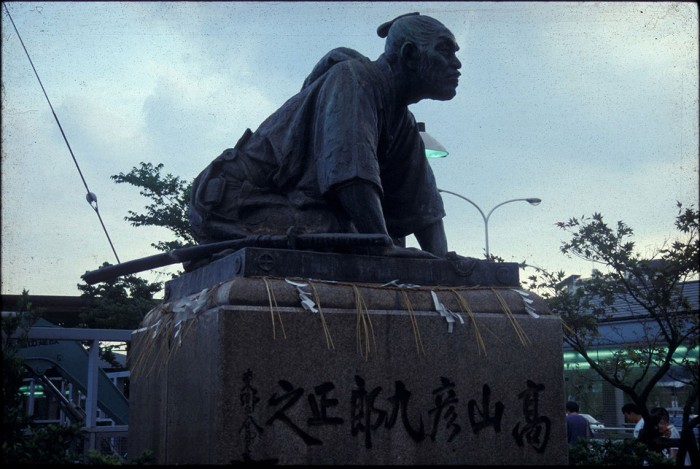 A samurai in the Edo period, Takayama Hikokuro (1747-93) is more symbol than substance since few facts are known for sure about him. The statue of Takayama at the Sanjo Bridge in Kyoto is a testament to the impact he had, but there are many stories which surround his legend.
One popular tale has it that Takayama was passing across the river at the Sanjo Bridge in 1784 when he saw to the north the remains of the imperial palace which had accidentally burned several years before. The palace had not been rebuilt and the emperor was not living in his palace in either splendor or comfort. Takayama made a point of bowing on hands and knees toward the palace, thereby signifying his disgust with the Tokugawa shogunate for allowing the reduced state of the emperor to occur.
Other stories have it that he made several trips to Kyoto to attempt to convince people of the significance which the emperor and the court nobility should be accorded, but to little avail. One of these stories confuses other activists on the emperor's behalf with Takayama. This story describes how nine swordsmen of the late Edo period crept into Tojiin, a Zen Buddhist temple where the Ashikaga shoguns were memorialized in statues. They struck off the heads of three Ashikaga shoguns, including Ashikaga Takauji.
The heads were displayed in the riverbed beneath Sanjo Bridge with a notice proclaiming that some contemporary men (meaning the Tokugawa shoguns and their retainers) were even more evil than the Ashikaga for their usurpation of the emperor's authority. Unfortunately, the story continues, one of the plotters was a police spy who turned the rest in.
The incident, shortly before a visit to Kyoto by the Tokugawa shogun, stirred political waters. It also turned at least one society from studying the "Way of the Warrior" to more political matters, including the possibility of overthrowing the shogunate. The story did not mention Takayama, but the popular mind was frequently confused and sometimes Takayama is said to have cut off the heads of the statues. Yet another story has it that Takayama frequented Tojiin temple and whipped the grave of shogun Ashikaga Takauji. Whether true or not, Takayama's name is associated with the growth of attention focused on the emperor in the late Edo period.
Much of the attention on the emperor came out of the School of National Learning which became a font of nationalism, anti-foreign feeling and the movement to overthrow the shogunate in the 19th century. Takayama's symbolic act is partly responsible for the high esteem in which emperors have been held in the modern period, even when they have been as weak and incompetent as the Taisho emperor who was slightly physically and mentally handicapped.