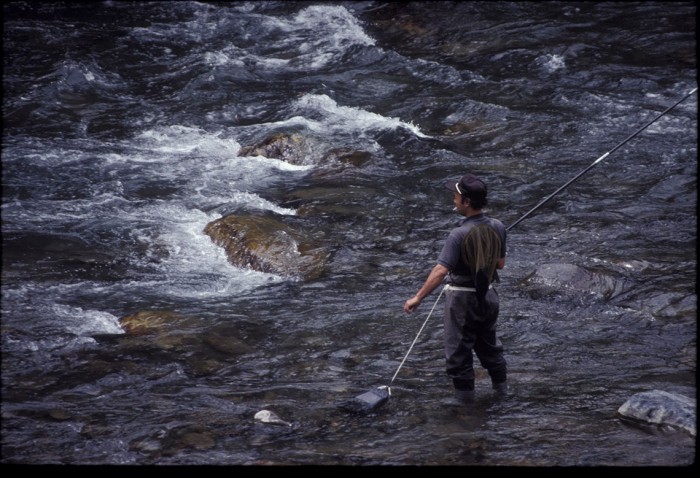 There is often an impression that although the Japanese have developed a strong sense of appreciation for their landscape, they appreciate a carefully cultivated garden more than the natural environment or a contemplative stroll in a park rather than a hike in the mountains.
Perhaps the most popular rural sport is fishing. In a nation which eats fresh-water and sea-water fish in abundance, it is little wonder that fishing should be so popular as a leisure activity. As recreation, fishing developed in the Edo period among urban dwellers. They had the free time and, in castle towns, they had at their doorstep a network of canals filled with salt or fresh water. Many took comfort in the cool evening with hook and line.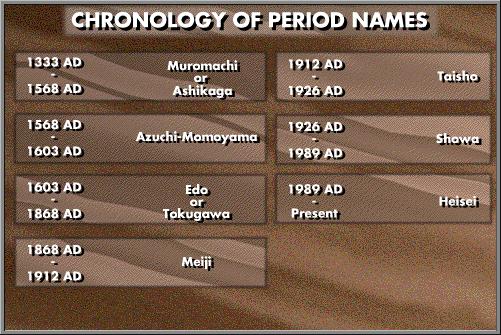 Today, fishing is closely regulated by each prefecture and rivers are carefully stocked with trout, carp or ayu (sweetfish). Fishermen may be seen every ten or twenty yards in the streams along the Nakasendo in the right season; each wears his fishing license tucked visibly into his hat or jacket in case the game warden comes past. Fishing stories and techniques are frequent favorites in serial comic books which stretch into multi-volume yarns. Serious students of the art snap up reprints of classic books on fishing and fish.
Hiking is another popular pastime. A frequent weekend sight is hikers dressed in boots, knee-high socks pulled up to knee-length breeches, plaid shirts and woolen hats boarding trains for the mountains. Hiking has become synonymous with camping and car-camping in recent years. However, even with the increase in leisure time as more and more companies give workers one, two or all Saturdays off, day hikes remain much more popular than overnight or extended camping trips.
Golf is the preferred rural sport of businessmen in the summer, but winter finds masses of families and young people lined up in major stations, waiting for trains to the snow fields. Downhill skiing rather than cross country skiing is preferred. In narrow Japan, it is hard to find open spaces for cross country, but steep hills are in abundance.
Day trips by groups of friends, school classes, clubs and neighborhood associations on weekends and holidays are common. They may be out for a hike or for fishing, or they may be out for more traditional rural pastimes like searching for the king of mushrooms, the prized matsutake found at the foot of pine trees. Group outings may arguably be preferred because Japanese prefer to be in groups, but they are equally a recent tradition which grew out of the times when city people yearned to get out of the urban areas but couldn't afford to do so except as a group. A subsidy from the school district or from a paternalistic employer never went amiss either. In any case, organized group outings to rural areas are a common sight and are considered beneficial in restoring the inner dynamics of any social group.
A typical modern addition to rural sports is found a mile or so away from Hosokute post-town, on the way to Biwa-toge. There is a sign pointing to the left toward 'Motor Land'. Motor Land is a race course for the average man with the above average car. Here, anyone can sign a waiver for damages, buckle up the seat belt, slip on a crash helmet, and roar off around the track as quickly as wits and bravado will permit. If you crash your car, well, it's your car and your neck. Unfortunately the elderly residents of Hosokute have good reason to believe that their necks are at risk too. The 'souped up' cars for the race track were never designed for the narrow old lanes of the Nakasendo, although too many young drivers seem to forget this in their quest to hurry back to the urban world.
On the other hand, car ownership levels in Japan are very high, but in the cities, cars are little more than idle pieces of sleek steel during the week. Japanese cities have one of the lowest ratios of paved roads compared to city area in the world. This means that few people are able to drive to work; traffic jams would be prohibitive. For many people driving is a weekend pastime, an entertainment rather than a means of transportation. With the car representing entertainment, establishments like Motor Land offer the spice of speed and danger.