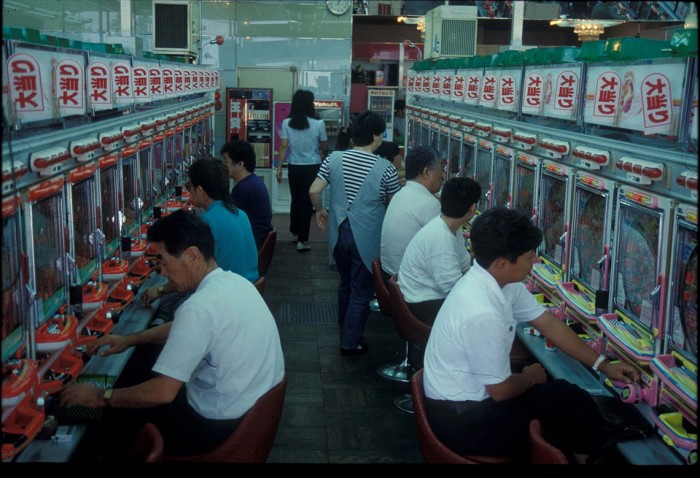 Pachinko is a game which can be found throughout Japan. It is a noisy, garish, glittery form of gambling which never seems to loose its popularity. Pachinko is like a pinball game. The object is to get a metal ball into one of the many holes on an upright playing board. The board is studded with hundreds of nails which contribute to the difficulty and to the noise level. A ball which goes into a hole will win several tens or hundreds of balls. When a player stops, the balls which have been won can be converted into prizes: stuffed toys, cigarettes, candy or a wide variety of other trinkets. Although it is illegal, some pachinko parlors will then offer money to exchange the prizes for cash although the offer may be made by yakuza (criminals) loitering around.
The game was invented in Nagoya and quickly spread through Japan. The game is noisy since the balls are metal, but in addition music is played at a high level with loud cheerful public announcements from time to time. The pachinko parlors open early in the day and stay open until late at night, with neon light advertisements glaring constantly. Since pachinko is a form of gambling, children are not allowed to play.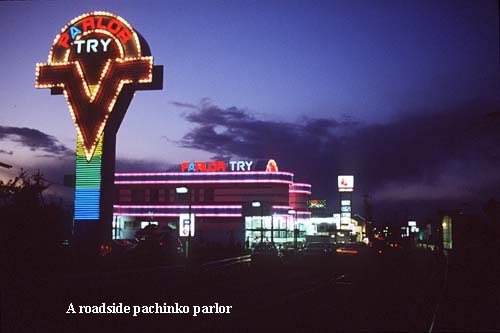 Modern pachinko machines are equipped with motor-driven devices which shoot the metal balls on their course. The pressure on the ball can be varied by a stronger or lighter twist on a handle. Earlier machines had a lever which had to be flicked by the player's thumb. While long hours risked a blister on the thumb, the earlier machines arguably demanded a higher level of coordination and skill.
In order to attract more and more clients, pachinko parlors now provide services which were unheard of in earlier years, including nurseries for children, parking facilities for drivers, and food and drink for the true addict.