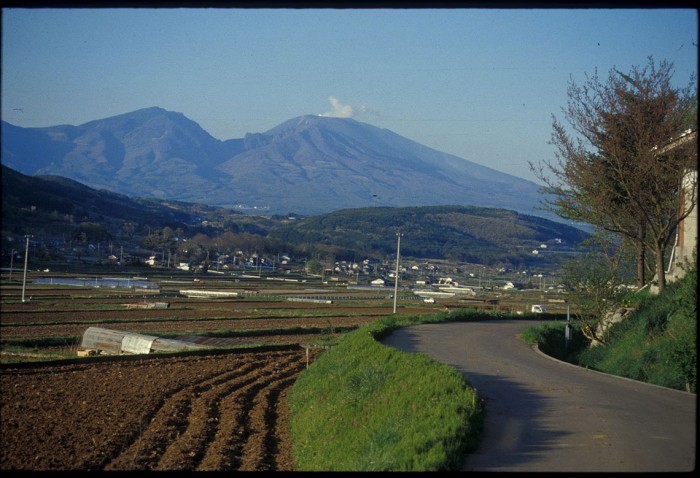 Mt. Asama is situated at the junction of two volcanic fronts in Japan and is therefore one of the more active of the 'active volcanoes'. Although puffing smoke constantly, the last major eruption was on August 5, 1783, but 50 other ventings have been recorded. It now stands 8,338 feet high, but like Mt. St. Helens in the U.S., the original height was much greater prior to the 1783 eruption.
Beginning in May that year, there were unceasing minor earthquakes and eruptions sending clouds of ash high into the sky and darkening the whole area. It finally erupted in August, blowing off its top and sending a pyroclastic flow down its northern flanks (away from the Nakasendo). The flow of lava, steam, boiling mud, and superheated gases engulfed and destroyed many villages in its path and caused over a thousand deaths. Worst hit was the village of Kanbara which lost 463 of its total 556 population. The survivors had all taken refuge at a small temple on a hill overlooking the village. The temple was approached up a stairway of 112 stone steps; the lava rose to all but the last ten steps before stopping. The 1783 eruption sent its plume of ash so high that the sunlight was blocked over much of northern Japan for the next few months. This resulted in a significant drop in temperature and is coincident with the outbreak of the Tenmei famine, one of the three major famines in the Edo period. Records say that 1.4 million people perished, out of a total population of 25 million.
Today, Mt. Asama remains a popular tourist spot, being close to Karuizawa and having a number of hot spring resorts on its slopes. The hot springs were said by 19th century Western travelers to be effective for curing headaches, syphilitic eruptions, scabies, and pus.