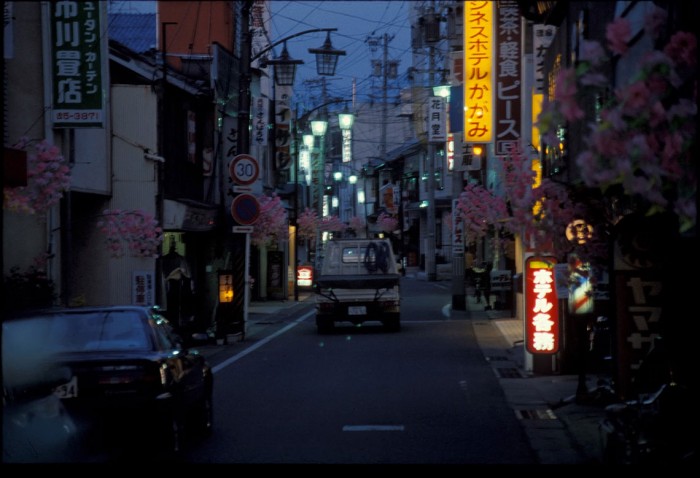 Nightlife today is varied and intense. Both large and small cities have areas of concentrated nightlife: rows of pubs, bars, cabarets, restaurants, coffee shops, discotheques, 'love' hotels, games parlors, pachinko joints or tall buildings with the rows of advertisements running vertically up the facades instead of horizontally. Areas of Tokyo like Kabukicho in Shinjuku are dedicated almost entirely to the entertainment businesses (aside from the old Shinjuku Ward government office buildings at the edge of Kabukicho). Other areas, like the expensive Ginza, have a heavy concentration of such businesses on the side streets, but on the main streets during the daytime are the up-market shops and department stores. The Japanese call the nightlife business mizu shobai or 'water business' partly after the Edo period concept of the 'floating world' or ukiyo of the entertainment quarters.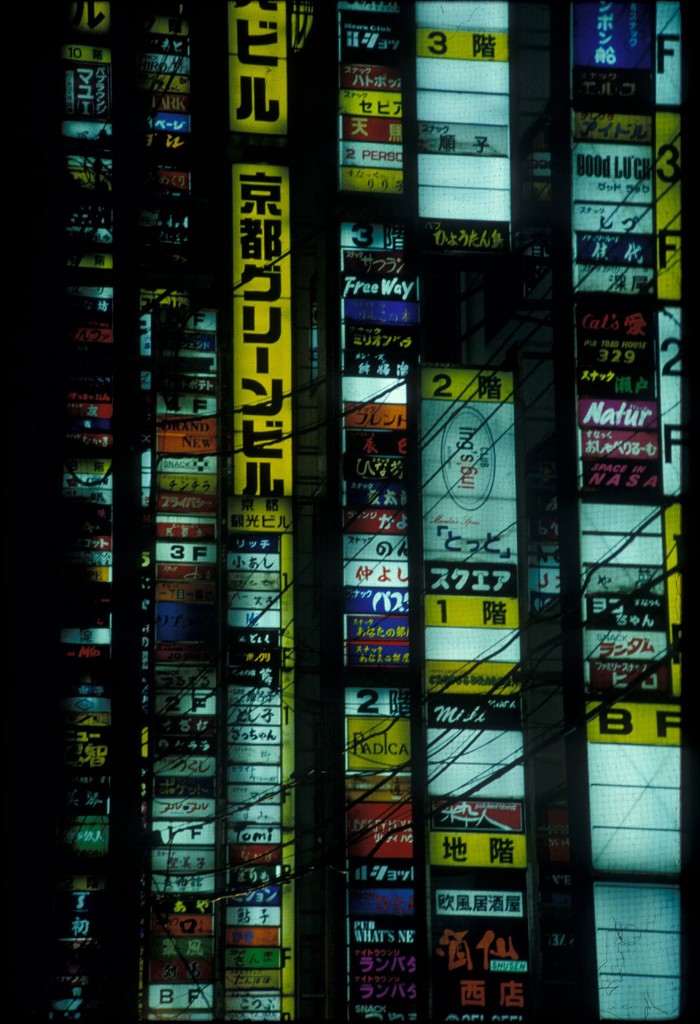 In suburbs and scattered here and there are collections of mizu shobai which are smaller and more oriented to a local, neighborhood clientele. These are usually quieter and more stable.
In the mizu shobai centers, however, there is a fantastic variety of entertainment and clientele. Some bars have virtually the same customers day in and day out. Others never know who may step through the door next. Most have collections of bottles with their client's names on them: Mr. Shimizu's is over there and nobody but he has access to it, giving him a sense of belonging (and the bar a regular income: the price of the bottle up front and then "setups" of ice and mixers). Some have prices clearly marked but others have no set prices, charging instead according to what it appears the customer is worth. Most bars and clubs have a theme: a studiously Spanish bar will have its door open out onto one affecting the smoke-blackened woodwork of a Kiso valley post-town inn. Garish lights beckon the customers into a soothingly dark interior. A coffee shop specializing in Viennese coffee publishes a daily schedule of classical music (with requests after midnight) while across the street is a jazz club with some of the best New Orleans jam sessions outside of Bourbon Street.
As in any entertainment area, Japan's mizu shobai drifts from the innocent to the opposite, with all the associations to prostitution, organized crime, and human misery imaginable. Millions of people are employed in the business. The appetite for variety seems to know no bounds.
Just as golf is viewed as a necessary adjunct to business negotiations, the entertainment districts are where negotiators retire after dark to get to know and trust each other over more than one drink. Tax law recognizes almost no limit to the amount that can be charged to the entertainment expense account, much to the benefit of the mizu shobai industries.