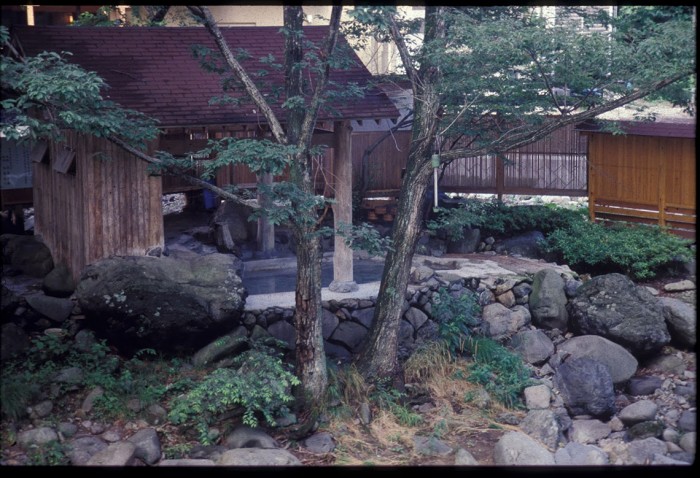 Springs (onsen) have been valued for centuries as places to bathe; nothing is better for relaxation and there are medicinal benefits as well. Hot springs may also be used as an energy source: to produce electricity, heat the public bath, defrost the public roads, and even heat greenhouses where vegetables are grown. Most people, however, are more impressed with bathing in hot springs than energy conservation.
Being in a geologically active, volcano-prone area, Japan has more than its share of hot springs. With drilling to a moderate depth, Japan reported some 2237 hot springs in 1975 compared to just over 1000 in the United States. The Japanese have apparently used hot springs for medicinal purposes since ancient times. Two Shinto gods of medicine were said to have established hot springs for treatments and they are often enshrined at today's hot springs.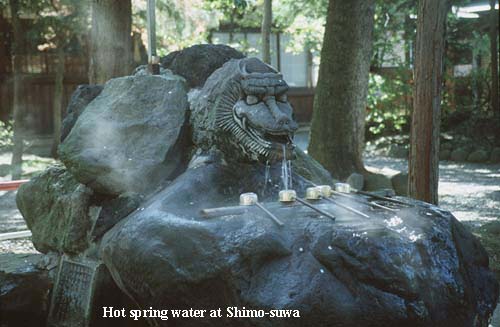 Suwa, virtually in the shadow of Mt. Fuji, is blessed with a copious supply of hot springs which provide water at a high temperature. Even the Suwa Shrine has a sulfurous spring spilling through a dragon's mouth into a basin for worshippers and tourists to wash their hands. Most then adjourn to a inn which most certainly taps into the system to supply  healing waters for its baths.
The relationship between hot springs and healing is one expounded by religious leaders such as Kukai (importer of Shingon Buddhism) in the 9th century. It is a theme which kept doctors of medicine busy in the Edo period and which was expanded in the 20th century when the prestigious universities of Kyushu, Kagoshima, Hokkaido, Kagoshima, Okayama, Tohoku and Gunma opened up research facilities focused on hot springs and health.